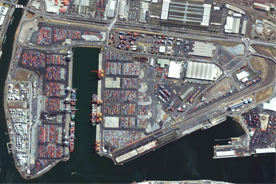 There is an irony in line marking in that, because it is everywhere, it is always used but often overlooked. In Melbourne we see it on our roads, our carparks, in warehouses, and on bike paths. We take for granted what it provides us, and how it impacts us in day to day life. Whether it be for convenience, symbolism, or safety, line marking is a large part of our everyday. We at Mainliner wanted to look at the scale of line marking in Melbourne. And so, we looked back over 70 years, to see how much Melbourne had changed. Just to see the difference line marking has had on our city.
In 1945, the population was little over 1.5 million and while the city sprawled over a large distance, there were still many underdeveloped suburbs, empty paddocks, and fields the further out you went. 70 years later, Melbourne's population has tripled to 4.8 million as of 2017. Many changes have since occurred to Melbourne's commercial and residential areas, as well as the city's infrastructure.
Take the port of Melbourne for example. In 1945, the main hub for trading was Victoria Dock, which was located near Spencer Street station (now Southern Cross). With the introduction of container shipping, the size of imports and exports required a larger port, and you can see the difference below.
Today, the Port of Melbourne requires significant line marking, both for safety and the direction of the large scale heavy machinery. For context, that is an approximate area of 143,000 m², and brings in around 85 billion dollars in trade. Moving north, we look at the impact of line marking in residential areas. Consider the picture of Broadmeadows below.
.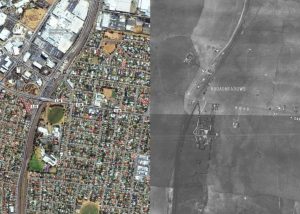 What was once agricultural is now a major residential area. An area that is still developing today. Consider for a moment the road line marking and surface coating solutions on the roads and footpaths that now populate this busy suburb. Not to mention the carparks and public transport areas. From the aerial shots alone, it is easy to see how much line marking populates one suburb of Melbourne. Lastly, consider the tarmac and carparks of Melbourne airport.
70 years ago, Melbourne did not have an international airport. It wasn't until 1970 that Tullamarine opened. With tens of millions travelling through the airport each year, Tullamarine is probably one of the best examples of line marking in the city.
At Mainliner, we have helped develop Melbourne, creating line marking solutions for councils as well as the Victorian State government. With vast experience in extruded thermoplastic, safety signage, and industrial line marking, we can provide some of the best long-term solutions to meet your needs.
Contact us today
Want to know how solar panels can benefit both your business and the environment, or want to utilise our road line marking services? Contact Mainliner on (03) 9308 2732 today.