WAREHOUSE LINE MARKING. INCREASE FACTORY PRODUCTIVITY IN MELBOURNE
We provide Warehouse line marking in Melbourne for increasing OHS and productivity. Clearly define the parameters of your workplace. Define the boundaries of heavy machinery, issue laneways for forklift movement, and separate pedestrian movements. It doesn't matter whether it is indoors or outside, we can make effective line marking solutions for your business at affordable prices.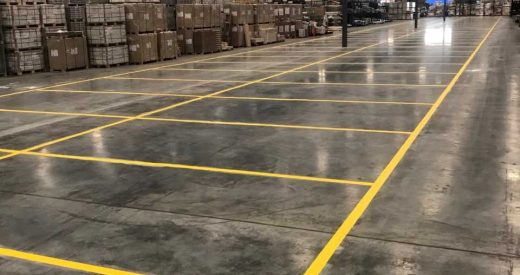 We understand how easily a line, sign, or symbol can influence. Line marking can be a cautionary reminder of a potential hazard, or just encourage the reader to be more aware of their surroundings. Our extensive range of colours, materials, paints, and flexibility regarding design can help you create the well-oiled machine of a workplace.
Our range of materials can adhere to all manner of surfaces, including concrete, asphalt, and bitumen. Having so many years of experience, and a reputation that extends throughout Melbourne, trust Mainliner to make its mark on your business. With solutions that are designed to endure the more industrious heavy machinery and lighter durability foot traffic areas, our service provides long-term line marking. We can define loading bays, pedestrian access, apply warning stencils, numbers and lettering. No matter the requirements, Mainliner can provide long-lasting and cost-effective results.
Warehouse Line Marking Experts
The team at Mainliner is dedicated to offering the best line marking solutions for warehouses. We know how vital line marking is for the safety of your people. Hence, we offer the most efficient line marking for your commercial area.
When you appoint us for your warehouse line marking, we inspect the entire space first to spot all safe walkway routes and areas of potential dangers. Then, we thoroughly check the site post completion of line marking to ensure we haven't left any area unmarked. We aim to match the safety layouts with line marking. If there is a need for repainting or any changes to be done after we have completed the line marking, we take complete responsibility for the work and get it done as soon as possible.
Line Marking Services From The Best In The Industry
We have been in the warehouse line marking business for years, which makes us an expert. Our professional expertise and extensive knowledge of the industry attract many customers towards us.
When you hire us for line marking in your industrial area, you can be sure to receive a high-quality service at an affordable price. We ensure to check your property thoroughly and identify areas that need markings or alterations (if already marked). We are confident that our line marking services will improve the efficiency of your warehouse as clearly marked lines will have a significant impact on productivity too.
At Mainliner, we use premium quality paint for line marking, so you know the markings will stay for an extended period.
Appointing us for your line marking needs is an excellent idea because:
We are committed to quality – We aim to offer the best quality services to our clients, so they refer us to their acquaintances. From warehouse line marking to car park line marking to road line marking, you can count on us for a variety of services. We also offer other services like concrete floor cleaners.
We have years of experience – We have been in the line marking business for years and have catered to many clients in Melbourne.
We are affordable – Though we offer the best line marking services, we are affordable. At Mainliner, you can expect quality services at competitive prices.
MAKE THE WORKPLACE SAFER
Your workers are your responsibility. And even the smallest reminder might stave off catastrophe. Whether it be the marking of a boundary, a stencil defining areas of caution, or signs that illuminate Occupational Health and Safety requirements. Mainliner can help you, and protect your workers. We provide an extensive range of preventative measures as well from bollards and speed humps to non-slip coatings for pedestrian areas.
The Line Marking Professionals
For premium line marking services call us today at (03) 9302 4676.