MAKE YOUR WORKPLACE WORKSAFE
ARE HAZARDOUS AREAS CLEARLY MARKED?
It is incredibly common that unsafe areas in a workplace are known about but left unmarked. And it only takes one person unaware of this fact before that unsafe area is the scene of an accident or near miss. Clearly define areas of danger. It is not just for OH&S reasons, but for the safety of your workforce.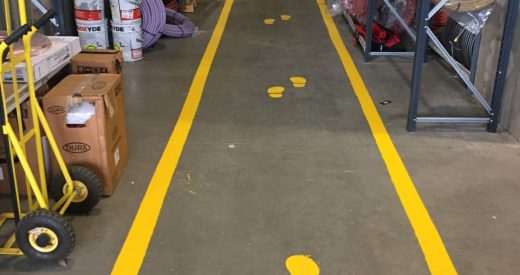 If you know of a hazardous area, or just feel the need to mark the area as a reminder, Mainliner can help. Line marking not only makes for a safer workplace but can be used to create a more productive work site. Whether it be marking pedestrian and heavy machinery traffic, separating forklifts from pedestrian traffic or reminding workers of their duties.
MAKING MELBOURNE SAFER
We have a versatile array of line marking and coating solutions, and a spectrum of striking colours to mark, identify and quantify risk zones in the work area. Giving your employees the ability to always be aware of their environment, using an easy to interpret visual, as a guide.
What's more, we understand which material best adheres to what surface. And how long such line marking will last, given foot or vehicle traffic, texture, and the indoor or outdoor elements. That's why we utilise machinery capable of applying any material depending on your surface requirements.
We want to make warehouses, businesses and industrial workplaces safer in Melbourne. Our focus is one of simplicity and precision. We have the knowledge to apply the best type of products for your floors. We understand the effectiveness of symbols as communicative tools. That a symbol is all it takes to precisely inform and warn those who read it. Help Mainliner make your workplace, a safer one. Call us today for your workplace solution.